FUSION PREBONDED 100% NATURAL REMY HUMAN HAIR EXTENSIONS
IDEAL FOR: Perfect solution for those who want the strongest holding power and a perfect blending. Require a professional to apply them.
DOUBTS WITH YOUR COLOR?
See the top video ☝️ on the product images to be able to compare bewteen different colors. If you still need more help, please feel free to send us a selfie pic by whatsapp and we will be super happy to help you.
FUSION PREBONDED HAIR EXTENSIONS

PREMIUM quality cuticle intact remy hair, all tips and roots in same direction to avoid tangle. This hair keeps all the natural structure and texture of the hair, as well as the cuticle. This preserve the hair and make is last much longer time (up to 4 times longer) than low price and low quality hair.
Professional high quality keratine glue will prevent any melting or hair shedding. This is specially important in warm weather climates, since a low quality keratine would easily melt and seriously damage the hair.
Due to the proven quality of our extensions, you can enjoy them for up to 18 months preserving their natural shiny gloss, moisture, silky texture … We select the quality of our hair material extremely strictly.
2. FUSION PREBONDED HAIR EXTENSIONS PRICE
The fusion hair cost depends depends on it length and the thickness you want to get in your hair. But its price goes from 80 to 120$ each 50 strands pack.
We recommend at least 2 packs (1.75oz (50grams) each) to get an outstanding look, and 3 packs in case you are looking for a thicker hair volume. You can choose between 20 inches (50cm) for a medium length or 24 inches (60cm) for additional lenght and extra XXL look.
Our Tape in hair can be waved, curled, ironed, straightened exactly the same as you would do with your own hair.
You can also bleach it, but please bear in mind that by bleaching you will be reducing the hair lifespan. That is why we always recommend choosing an a bit lighter color and making it darker with just a color bath on surface, it would always be a gentler option than bleaching. However, most of our customers do not need to dye the hair since we offer a broad variety of color.
3. HOW MUCH HAIR DO I NEED FOR A FULL HEAD?
The hair amount for a full head might vary depending on diferent factors. The first thing you need to keep in mind is how much volume you want to get and how long your own hair is now. If you just want a descreet amount of hair volume, with 3.5 oz (100 grams) could be enough. However, youwill need more hair if you want a XXL volume outstanding full head. And if your own hair is too short you might need a bit more, like 7 oz (200 grams).
This means that a full head of fusion prebonded hair extensions can be between 200 to 500$. That would depend on what kind of result you are looking for. Think on it as a long term investment in you beauty that can last for up to 1 year and a half with the proper care, keeping all its softness and shiny.
4. BEFORE AND AFTER FUSION HAIR EXTENSIONS
Try out what others have already tried:
❤ ¡With a small investment you can get a huge change. ❤
FREE international shipping wordwide for all orders. We will send your hair extensions wherever you are for FREE. We use priority door to door DHL and FedEx Service.
All our hair extensions have a free 7 days return guarantee after you receive it. Not your color? You changed your mind? … No problem at all. Whatever the reason you can return it back without any kind of explanation needed. More details about our return policy here.
Here we leave you with some screenshots of customers reaction to our hair.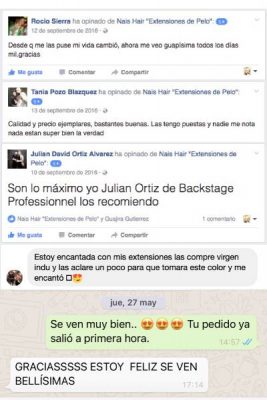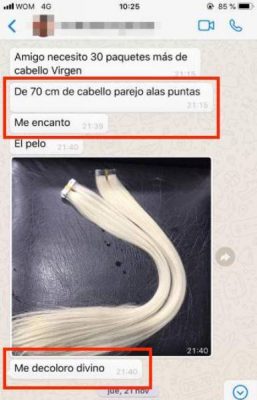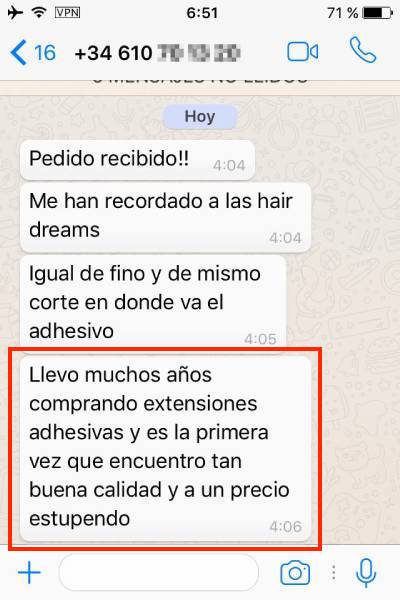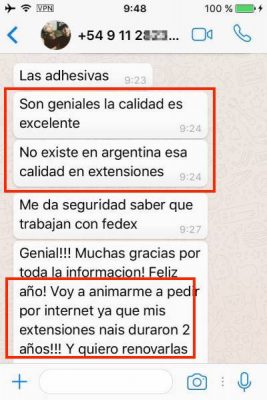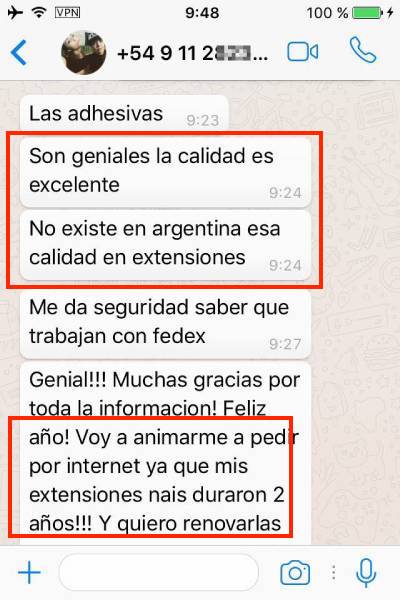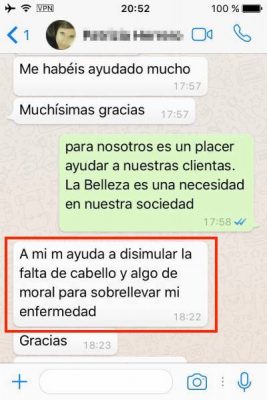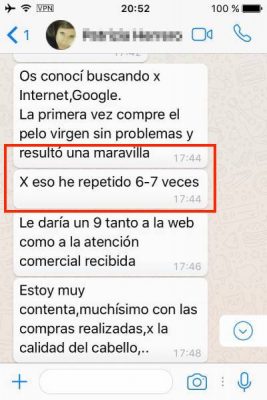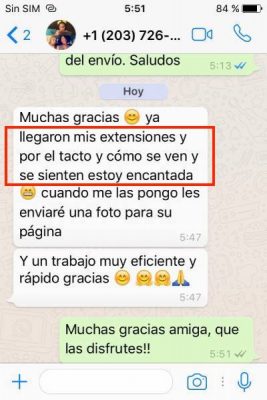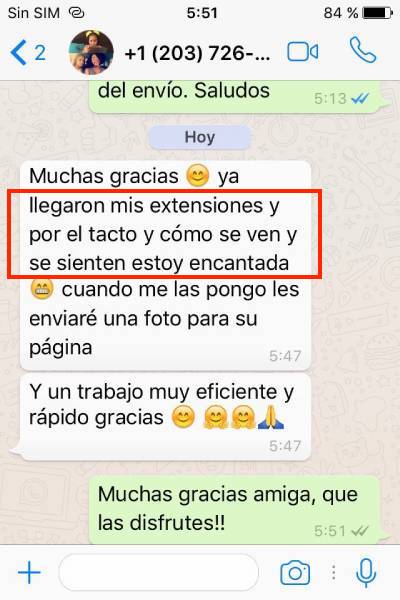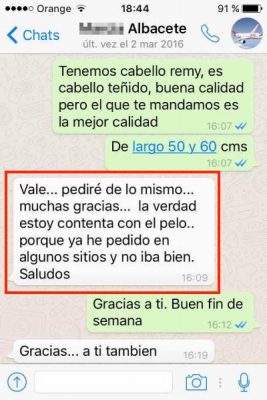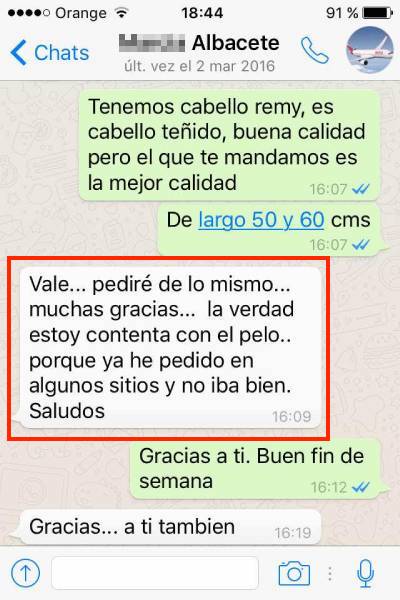 7. FUSION HAIR ADVANTAGES
The main advantage of fusion hair is the extremly strong holding power. The join is so strong that for more than 2 months you forget you have hair extensions. Once your own hair grows about 0.4 inches (1cm) you will need to re-apply your hair extensions back up to prevent being noticed by others. Another great advantage is that since it has different size hair piezes, you can get a very natural blend on your hair.

Extremely strong holding.
They come with the keratine ready to be applied.
Natural blend.
Re-usable (needs to get addtional keratine glue)
7b. DISADVANTAGES OF FUSION HAIR EXTENSIONS
Fusion hair extensions need a special glue called keratine. This special glue gives a very powerful holding, but is a more aggressive system to your hair compared to tape hair extensions.
If you are a hair extension user, and look for a fixed hair extensions system but you have not yet tried Tape Hair Extensions, we strongly recommend you to consider tape in hair and test the advantages for your own. This is our customers favorite hair system. That way you will be able to know which option is the best for you.
If you are a hair extensions professional, we would also recommend you to test tape hair extensions and you will experience a very high satisfaction level in your customers. Many extensions professionals have been working with us for years and have seen the superiority of the tape in hair in many aspects. Please contact us for more details.
Some disadvantages of fusion hair extensions are:
Require glue.
Require an licensed profesional
If not professionally applied, they can damage your hair.
As any other fixed hair extensions method, it require re-apply every 2 or 3 months.
8. HOW LONG DOES FUSION HAIR LAST FOR?
Nais Hair fusion extensions are made only ofreal Remy cuticle hair and the average lifespan is much longer than other lower quality extensions. You can expect to use it for at least 12 to 18 months in optimal conditions. It is important to understand that the word "remy" has lost it real value and meaning with time, and became just a term to identify natural hair. Real remy hair has to keep it cuticle, with is more and more rare to find on the market.
The reality is that 95% of the hair market does NOT has cuticle, even when they market it as remy. You can test you hair by making a simple test holding one hair with your 2 fingers and rubbing it up and down to create friction. If you find no resistence or friction on it, it means this hair has not cuticle.
The reason why most factories remove the cuticle with agressive acid is because they use low quality raw hair material from hair salon refuse (not from one single healthy donor), so cuticle has to be removed to prevent tangle. But cuticle is a fundamental part of the hair structure and is a protective layer indispensible to maintain the hair healthy, shiny and mustorized. Non cuticle hair becomes dead and dry hair. Non cuticle hair is a much more cheaper raw material, but without the natural protection of the cuticle, even when adding a wax wash to add shininess, after 1 or 2 hair wash, it will loose its gloss, and even trying to revive this hair with the best shampoo and conditioner, this hair has received so much damage that will never recover it natural gloss and health.
Fussion Nais Hais Extensions has it cuticle intact. The raw material used is only healthy donor hair, not refuse salon hair. The processing method used to bleach the hair is not acid, but a slow cold osmosis system to take out the pigment.
Please, invest in your beauty in quality products, and do not be deceived by appearance. The difference in price is not that big with regard to low quality extensions, but the lifespan can be up to 4 times longer.
"You get what you pay for" really has a strong meaning in the hair extension industry. The main saving when it comes to hair extensions is on the installing expense.
Enjoy healthy, shiny, soft hair for longer time.
You can find out more about our quality control system on the following video:
9. WILL FUSION HAIR DAMAGE MY HAIR?
Considering these are a permanent fixed hair extensions system, fusion hair willnot damage your hair if applied by a licensed professional person. One of the reason being that each piece has a very light weight so they do not add excessive pulling weight to your own hair. So hair shedding is very unlikely to happen. They are also extremely confortable to wear, even when you sleep, specially in comparison with other extension methods.
Other types of hair extensions could damage your hair, specially when not applied by a professional. Tape in extensions are the most recommended system for thin and poor hair. So, if you want the advantages if fixed permantent hair extensions but harm free, please consider tape in hair extensions. This is what we always recommend to our customers.
10. CAN I USE FUSION HAIR EXTENSIONS IN SHORT HAIR?
Fusion hair are applied point by point, strand by strand, which means that they are actually the best option for short hair to prevent the joins being exposed to others. As they are individual hair strands, they do not need a lot of contact surface to get a discreet and seamless join.
You will need to match the color of the extension with the root of your hair to make it look more natural.
Fusion hair will not damage your hair. So, anyone can use it even with thin or weak hair. It is just important to remember to have a licesed professional person to apply them. The few cases we have seen of hair damage in case of fusion hair was always due to non professional applied. If you want to apply the hair extensions yourself with some friend help, then we rather recommend you tape hair extensions.
However, people with serious hair falling problems should avoid any kind of hair extensions until this condition improve.
Also, if your hair is short you should keep in mind you will need more hair to be able to get a reasonable amount of volume in your head. If your hair is really short, you will need between 5 to 7 oz to have a full thick head look.
Fusion hair are a perfect match for those looking for a very strong holding. If you are thinking about fixed hair extensions, and you do not want to bother about put the on and take them out every day such as clip in or halo extensions, fusion keratine hair are a good option for you.
11. HOW TO APPLY FUSSION KERATINE HAIR EXTENSIONS
Fusion keratine hair is one of the methods that requiere more experience and time to apply. Since all the joins are done one by one to get a very strong holding, this is also one of the most labor-intense systems. We always recommend to be done by a professional person.
Time to apply would be from 1 to 3 hours depending on the experience and the number of strands you will have on.
STEP 1: starting on the bottom of your head, divide your hair and hold it up with a hair clip, leaving a gap of about 1 inch between the root and the clip.
STEP 2: use a hair extension connector to melt the keratine glue.
STEP 3: take a small strand of your own hair and press it turning with your fingers in circle.
STEP 4: repeat the same process leaving about 0.2 inches in between each strand.
STEP 5: divide the hair again in parallel but about 0.8 inches on the top to make a whole new row of strands.
STEP 6: repete the same process going up on all the back of the head.
12. HOW TO TAKE OFF AND RE APPLY FUSION HAIR WITHOUT DAMAGING YOUR HAIR
Our fusion hair extensions can be re-used as many time as you want. You will just need more high temperature keratine glue. to make new joins.
Every 2 to 3 months your hair will grow about 0.5 inches so you will need to re apply your extensions. You will just need a hair fusion remover and small pliers, and a residue cleaner
STEP 1: make a first partition starting from the bottom of the back of your head and hold the hair with a hair clip.
STEP 2: apply keratine glue remover, and press with your fingers and pliers to soften the keratine glue.
STEP 3: gently pull the extension while you hold the hair from the root to prevent hair pulling.
STEP 4: repite this same process until all strands are removed.
STEP 5: brush, and then wash your hair with shampoo and conditioner to remove any traces of keratine glue.
Once all strands are removed you can now re-use them following this video instructions:
OTHER TYPES OF HAIR EXTENSIONS:
Tape In Hair Extensions
Hair weft
Clip in hair extensions
Halo hair extensions