100% NATURAL HUMAN HAIR HALO EXTENSIONS
IDEAL FOR: Special occasions or first time extensions users looking for freedom and confort wearing it. Affordable option without applying expenses from a hair salon. Just put it on. How long doe it take to wear it? Same as it would take for you to wear a hairband… 5 seconds!
DOUBTS WITH YOUR COLOR?
See the top video ☝️ on the product images to be able to compare bewteen different colors. If you still need more help, please feel free to send us a selfie pic by whatsapp and we will be super happy to help you.
1. HALO HAIR EXTENSIONS QUALITY
100% natural human hair extensions, roots and tips all go in same direction to prevent tangle. This hair keeps all the natural structure and texture of the hair, which allow you to enjoy longer shine and softness.
Hair piece has a professional double reinforced micro-stitching to prevent any type of hair shedding. Halo hair extensions are so easy to put it on and put it off, but they get a strong hold on your hair due to an ultra resistant seemless nylon thread. You can dance, even go swimming with them. You will not even notice you hae it on.
You can just take it out on the night to leave it rest just hanging it on a clothe hanger with clothespins.
2. HOW MUCH DOES HALO HAIR EXTENSION COST?
The cost of your halo hair extensions would depend on how much length and thinkness you want to get on your hair, but its average price goes from 80 to 140$ for a 2.5 oz (70grs) pack. If you need to add aditional thickness to your hair you can add a second layer or use it a a double layer to get an astonishing look.
Available length: 20 inches (50cm) for a medium length, and 22 inches (60cm) for longer hair.
Our Tape in hair can be waved, curled, ironed, straightened exactly the same as you would do with your own hair.
You can also bleach it, but please bear in mind that by bleaching you will be reducing the hair lifespan. That is why we always recommend choosing an a bit lighter color and making it darker with just a color bath on surface, it would always be a gentler option than bleaching. However, most of our customers do not need to dye the hair since we offer a broad variety of color.
You can get straight hair and then make waves with your curling iron. No more hair salon!
3. HOW MUCH HAIR DO I NEED FOR A FULL HEAD?
Each pack has 1 piece of 11 inches (28cm) that adapt easily to your hair. Total weigth of the hair piece is 2.5oz (70 gr). The average customer order is 1 or 2 pieces depending on how much thickness you are looking for.
You can get 2 packs and wear it as double layer to add aditional thickness to your hair. But first you need to consider how much thickness and length you want. If you want less thickness and you have long hair, then2.5oz (70 gr) will do.
However, youwill need more hair if you want a XXL volume outstanding full head. And if your own hair is too short you might need a bit more, like 7 oz (200 grams).
4. BEFORE AND AFTER HALO HAIR EXTENSIONS
Try out what others have already tried: ❤ ¡With a small investment you can get a huge change. ❤
FREE international shipping wordwide for all orders. We will send your hair extensions wherever you are for FREE. We use priority door to door DHL and FedEx Service.
All our hair extensions have a free 7 days return guarantee after you receive it. Not your color? You changed your mind? … No problem at all. Whatever the reason you can return it back without any kind of explanation needed. More details about our return policy here.
Here we leave you with some screenshots of customers reaction to our hair.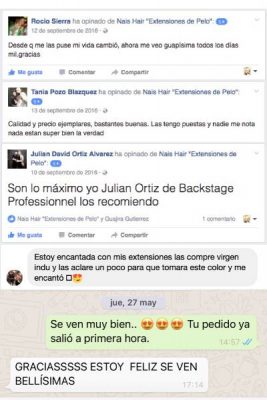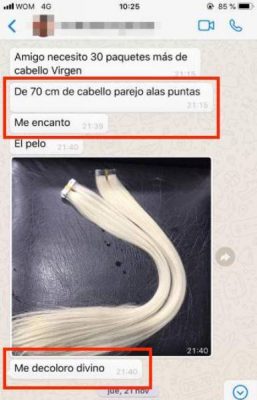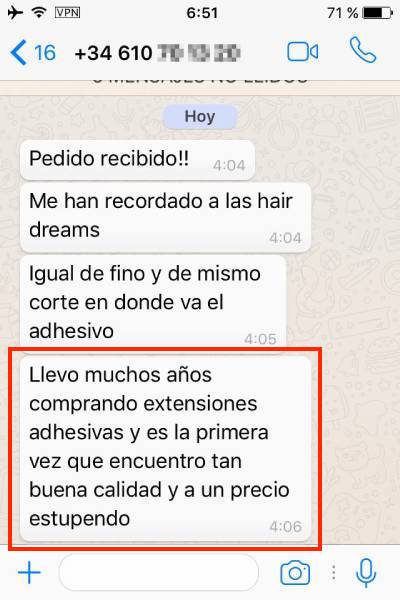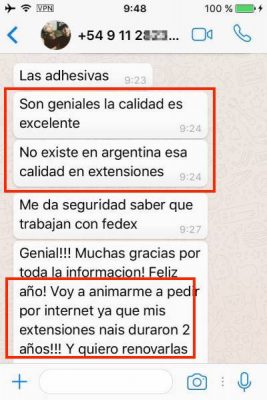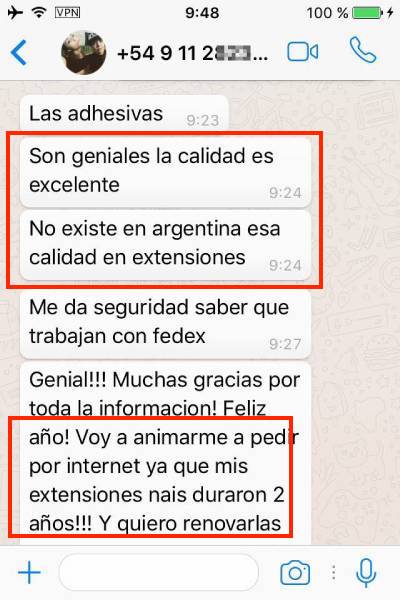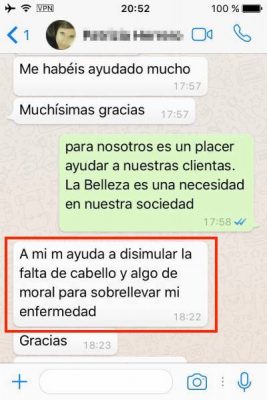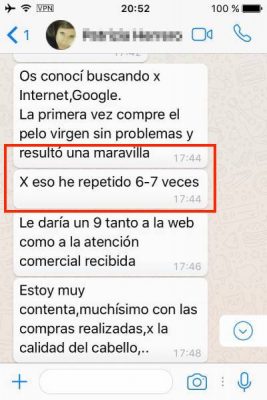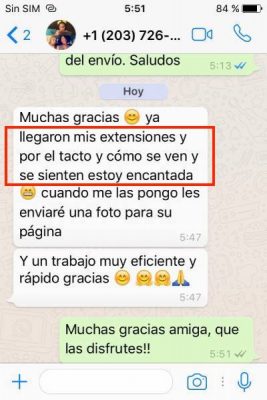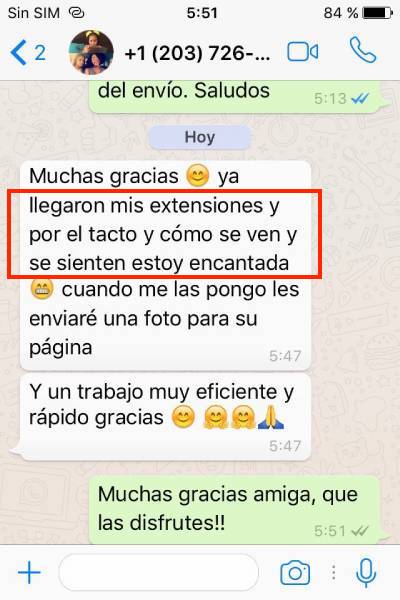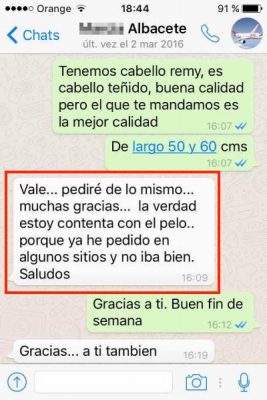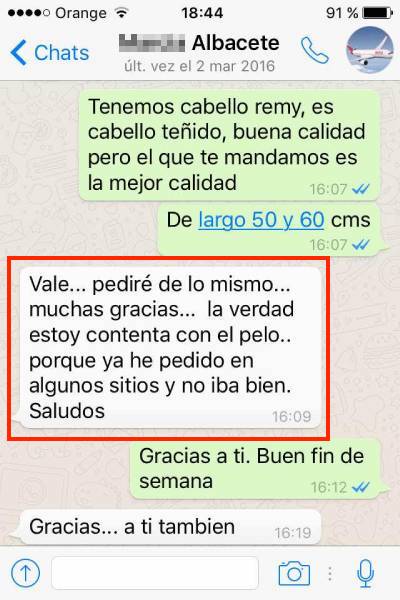 7. HALO HAIR EXTENSIONS PROS
The main advantage of halo extensions is the fredom you get to wear it, when you only need 5 seconds to put them on or take them out. Its a temporary but stong hold.
Puedes tener un pelo corto y largo varias veces al día, porque de esto se trata: Sencillez y rapidez cuando quieras.You can have short or long hair within the same day, that´s what this is all about: Easy and fast, whenever you want. Now it is easier than ever to get the look that you want with this new trendy extensions system.
Any time you have a special occasion, when you are in a rush or when you want to get a stunning look in a few seconds, these extensions are your perfect match. With them you can have a simple hairdo, or loose hair either straight or wavy, or you can make a simple natural braid. You can get multiple amazing hairdos within minutes. You just need to be creative an a little bit of imagination.
These extensions are wonderful. They are a perfect option because they adapt to you and your personality. If you want to enjoy a healthy, shiny and thick hair with a minimum effort and in the blink of an eye, halo hair extensions is your best option.
Halo hair extensions are a good option for girls who love going out out on the weekend and want to get an awesome look without having to commit to fixed extensions.
Another great advantage is that you save up money as you can put them on by yourself. You can use them every day or just for special occasions.
Freedom. You can put them on and take them out whenever you want. Even several times a day.
You can only use them for special occasions.
You can take them out when you go to sleep. That way they will last longer.
No applying fees.
No glue.
Super easy to put them on.
Save time and money.
As halo extensions are temporary, they do not get the same strong hold as fixed extensions.
If you are looking for fixed hair extensions system and you have not tried Tape In Hair Extensions yet, we recommend you to try them out and compare the results. That way you will be able to know which option is the best for you.
The only disadvantage we find on halo extensions is:
They are temporary.
They do not offer a super strong hold.
8. HOW LONG DO HALO EXTENSIONS LAST FOR?
100% Natural hair last and average of 8 months with a daily use. If you do not use them on a daily basis, they can last for years.
Enjoy healthy, shiny, soft hair for longer time.
You can find out more about our quality control system on the following video:
9. WILL HALO EXTENSIONS DAMAGE MY HAIR?
Halo extensions won´t damage your hair. You do not have to worry about it. In fact, among all the hair extensions systems available, this is the less harming one. It is like wearing a hear band.
When you have them on, you must take care of them as you would do with your own hair. They are not agressive to your scalp, as they are not attached to your hair of skin. No glue, nor agressive chemical removers.
As you can take them off at night, it will not create tensions to your your own hair when you sleep. You will not need glue or agressive chemical removers to apply them, so there is not risk at all.
So, if you want to have all the advantages of the temporary extensions, the halo extensions are the perfect match for you.
10. CAN I USE HALO EXTENSIONS IN SHORT HAIR?
Do you have short and weak hair? Then halo extensions are the best option for you, since you get thicker and longer hair in just a few seconds. Halo invisible extensions are designed for every kind of women and all kinds of hair.
Halo extensions can be used in short hair. But you will need at least 4 inches (10 cm) on your own hair to be able get a natural blend and seemless look.
Anybody can use halo invisible extensions even if you have thining hair, or if you use ithem for the first time.
We usually do not recommend them to people with severe hair loss problems, until this condition improve. But you can consider halo extensions as they are just a hair accesory similar to a head band.
Also, if your hair is short you should keep in mind you will need more hair to be able to get a reasonable amount of volume in your head. If your hair is really short, you will need between 5 to 7 oz to have a full thick head look.
You can use this tutorial to learn how to blend in your halo extensions:
11. APPLYING HALO EXTENSIONS
You can do it by yourself. You will not need any help. Save money and time in long salon sessions, because you can do it by yourself in just 5 seconds. Is it not great?
This is the easiest hair extensions method ever. It will take you same as putting on a hairband… 5 seconds.
Here you can watch how to apply them:
STEP 1: First you have to find the invisible thread on the top of your head, so that the hair falls naturally on your back.
STEP 2: hold some of your own hair strands very carefully and place them on the invisible thread to blend it with your own hair.
STEP 3: Enjoy them
12. HOW TO MAINTAIN AND WASH YOUR HALO EXTENSIONS?
Clip on hair extensions are easier to wash than other extensions methods. When you take them off you can apply shampoo, conditioner, and let them dry easily.
Caring for these hair extensions is simple, you just have to do as you do with your own natural hair. For example, wash them with neutral shampoo and apply conditioner after that. And every so often, replace the conditionar with serum. This will let you enjoy them for longer.
When you brush them please use a special hair extensions tangle free brush.
You can use iron, dryer, curling iron when the hair is already dry, not while is wet. Do not bleach or dye your extensions otherwise they will last shorter time. If you still decide to do it, please only use natural ammonia free dyes.
With this tutorial you will learn how to wash your halo extensions:
STEP 1: take off the extensions and put them on a table. Starting from the tips and going up to the roots, use your brush to untangle the hair.
STEP 2: fill the sink with warm water and add shampoo until you get some bubles. Please use a sulfate free shampoo with no chemicals or alcohol.
STEP 3: Hold your extensions from the top and dip them into the water.
STEP 4: untagle the hair locks with your fingers while you soak them into the water for several times.
STEP 5: clear shampoo with your hands and then apply hair conditioner. Wait for 1 hour.
STEP 6: one hour later, rinse carefully the conditioner using tap water and squeeze gently to remove any water left.
STEP 7: place the extensions onto clothe hangers using clothespins to hold them and let them dry naturally. Brush them for the last time.
OTHER TYPES OF HAIR EXTENSIONS
Fusion prebonder hair
Hair weft
Tape in hair extensions
Clip on hair