100% NATURAL REMY TAPE IN HAIR EXTENSIONS
IDEAL FOR: Tape In is ferfect for those searching for a long holding but also confort and flexibility. This is by far our favorite hair extension system and the most recomended by our customers.
DOUBTS WITH YOUR COLOR?
See the top video ☝️ on the product images to be able to compare bewteen different colors. If you still need more help, please feel free to send us a selfie pic by whatsapp and we will be super happy to help you.
Al ser extensiones de calidad REMY , las puntas y raíces van en la misma dirección, evitando por lo tanto que el pelo se enrede. This hair keeps all the natural structure and texture of the hair, as well as the cuticle. This preserve the hair and make is last much longer time (up to 4 times longer) than low price and low quality hair.
air piece has a professional double reinforced micro-stitching to prevent any type of hair shedding. Extremely resistant holding power due to its extra thin surgical adhesive tape.
Due to the proven quality of our extensions, you can enjoy them for up to 18 months preserving their natural shiny gloss, moisture, silky texture … We select the quality of our hair material extremely strictly.
2. HOW MUCH DOES TAPE IN HAIR COST?
Thecost of tape in hair extensions depends on it length and the thickness you want to get in your hair. But its price goes from 100 to 150$ each 20 pieaces pack.
We recommend at least 2 packs (1.75oz (50grams) each) to get an outstanding look, and 3 packs in case you are looking for a thicker hair volume. You can choose between 20 inches (50cm) for a medium length or 24 inches (60cm) for additional lenght and extra XXL look.
Our Tape in hair can be waved, curled, ironed, straightened exactly the same as you would do with your own hair.
You can also bleach it, but please bear in mind that by bleaching you will be reducing the hair lifespan. That is why we always recommend choosing an a bit lighter color and making it darker with just a color bath on surface, it would always be a gentler option than bleaching. However, most of our customers do not need to dye the hair since we offer a broad variety of color.
3. HOW MUCH HAIR DO I NEED FOR A FULL HEAD?
The hair amount for a full head might vary depending on diferent factors. The first thing you need to keep in mind is how much volume you want to get and how long your own hair is now. If you just want a descreet amount of hair volume, with 3.5 oz (100 grams) could be enough. However, youwill need more hair if you want a XXL volume outstanding full head. And if your own hair is too short you might need a bit more, like 7 oz (200 grams).
That means that for a full head you might need between 200 to 600$. That would depend on what kind of result you are looking for. Think on it as a long term investment in you beauty that can last for up to 1 year and a half with the proper care, keeping all its softness and shiny.
4. BEFORE AND AFTER TAPE HAIR EXTENSIONS
Try out what others have already tried:
❤ ¡With a small investment you can get a huge change. ❤
FREE international shipping wordwide for all orders. We will send your hair extensions wherever you are for FREE. We use priority door to door DHL and FedEx Service.
All our hair extensions have a free 7 days return guarantee after you receive it. Not your color? You changed your mind? … No problem. Whatever the reason you can return it back without any kind of explanation needed. More details about our return policy here.
Here we leave you with some screenshots of customers reaction to our hair.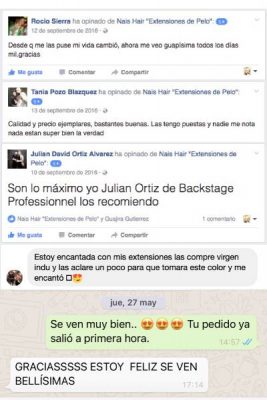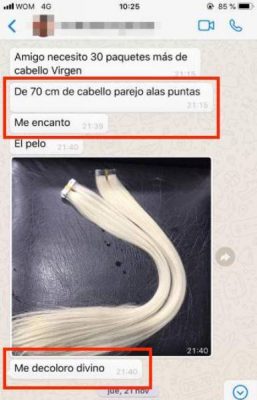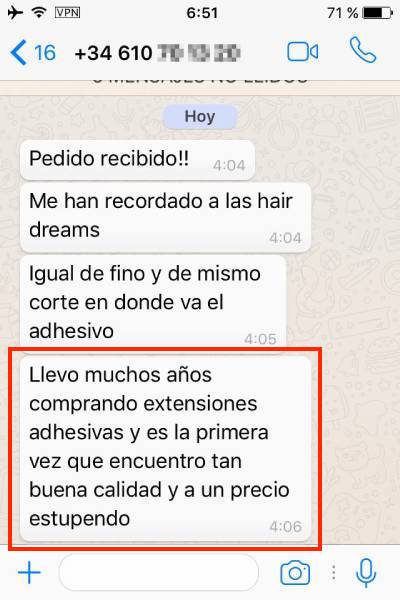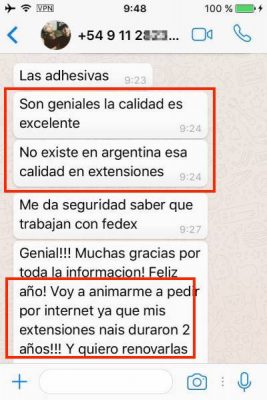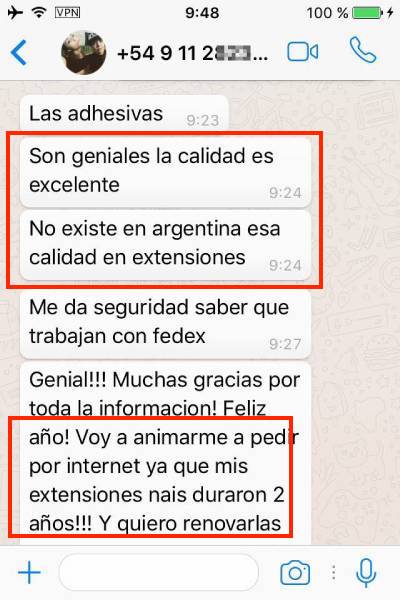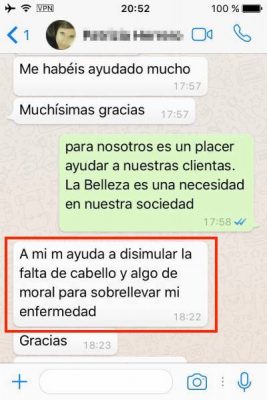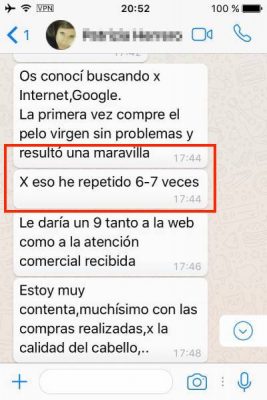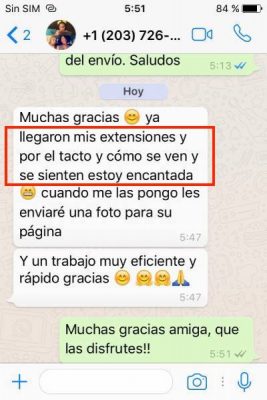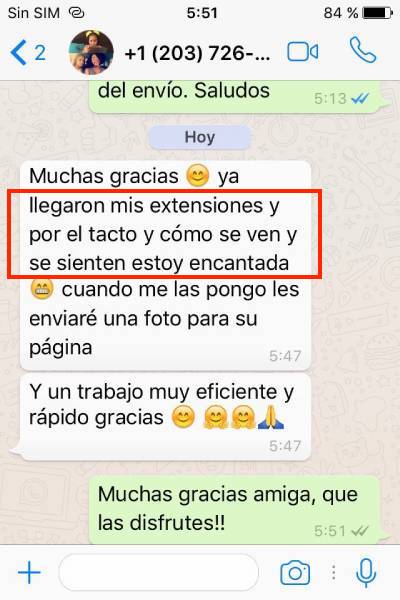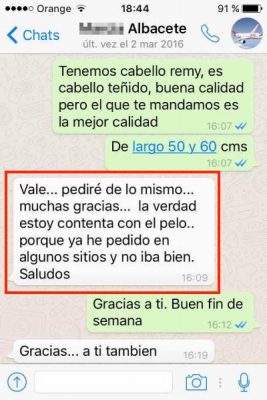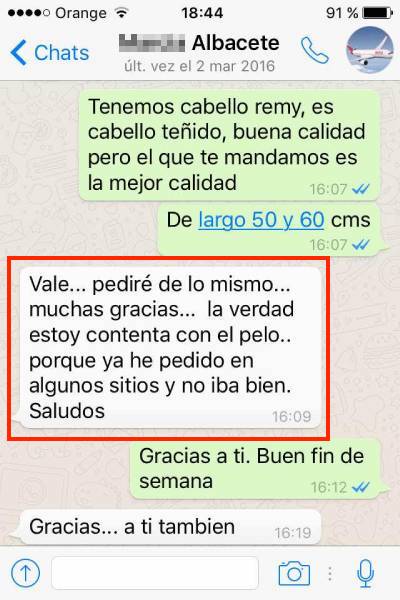 7. TAPE HAIR EXTENSIONS PROS
This is the latest generation of improved seemless tape in hair. It is the most chosen hair extension system recently. It´s the perfect solution for whose looking for an strong holding power but at the same time confort and flexibility.
It comes with a applying surface with a very thin and discreet surgical adhesive at the root, which as a result provides comfort without losing any degree of holding power.
No glue
No aluminiun microring.
No hair pulling
Easy to apply
Reusable
7b. CONS OF TAPE IN HAIR EXTENSIONS
Actually is that is not easy to find any disadvantage for the tape in hair extensions system. It is by far the most recommended method and fits most people needs. More and more of our customers tell us how much they love this excellent system. Those who try tape in, they normally stay with this method and do not want to change it. If we had to highlight any disadvantage would be:
ince is a fixed long term extensions system, it require of maintenance every 2 to 3 months.
8. WILL TAPE IN HAIR EXTENSIONS DAMAGE MY HAIR?
Considering is a fixed permanent hair extensions system, tape in is the most harmless holding system for your hair. One of the reason being that each piece has a very light weight so they do not add excessive pulling weight to your own hair. So hair shedding is very unlikely to happen. They are also extremely confortable to wear, even when you sleep, specially in comparison with other extension methods.
Other types of hair extensions could damage your hair, specially when not applied by a professional. Tape in extensions are the most recommended system for thin and poor hair. So, if you want the advantages if fixed permantent hair extensions but harm free, please consider tape in hair extensions. This is what we always recommend to our customers.
9. CAN I USE TAPE IN HAIR EXTENSIONS IF MY HAIR IS SHORT?
Tape in hair extensions do not damage your hair. So, eveyone can use tape in, even when thin and poor hair. Also if your hair is too short. But keep in mind you would need additional pieces to fill a full head.
However, people with serious hair falling problems should avoid any kind of hair extensions until this condition improve.
For very curly hair or afro hair style tape in hair would not be the best option. On that case, is better to use other system like weft hair.
Tape in is the perfect match for very active women. For those who want fixed permanent extensions without the hassel of needing to put it on everyday as in the case of clip or halo extensions.
10. HOW TO APPLY TAPE IN HAIR EXTENSIONS
Applying tape hair extensions is much easier than it seems. You would need about 30 to 45 minutes depending on your experience and hair quantity you need. But is very important that you follow the following steps for a firm holding to avoid the extensions falling after just a few hair wash.
You can take them to your favorite hair saloon or apply it yourself with the help of a friend and this tutorial: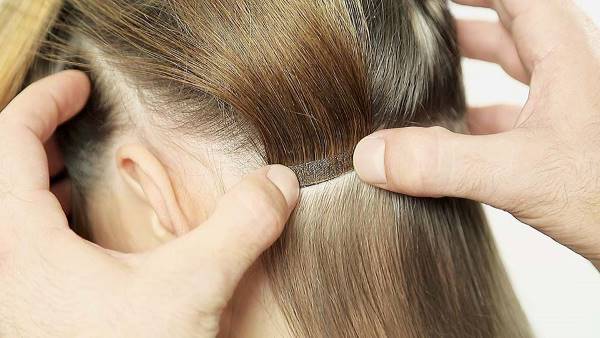 STEP 1: take the 20 pieces out of the packaging, and peel out the paper of the first pair.
STEP 2: place one piece on the top of the other, leaving a few strands of your hair in between as a sandwich. Keep a gap between the extension and you own hair of about 0.08 inches (2mm) to prevent
hair pulling.
STEP 3: it is very important that the strands of hair you leave in between would not be too much so that it would reduce holding surface and holding power.
Do not take so little hair neither that few hairs strands would bear too much tension.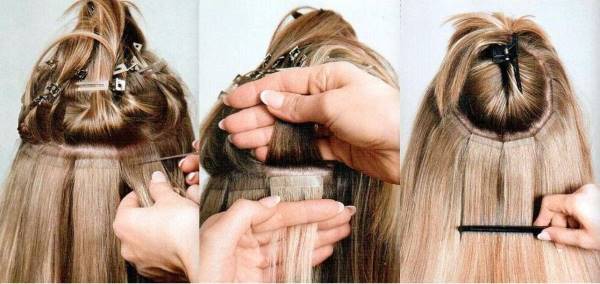 STEP 4: once you have the first «sandwich» ready, please hit the join just about 5 seconds with the iron at medium temperature. This is for slightly melting the adhesive in order to multiply its holding power.
STEP 5: tighten the «sandwich» with pliers to enhance the holding power even more.
STEP 6: repeate the same process of applying pairs evenly on the nape and head sides.
11. HOW TO APPLY TAPE IN HAIR EXTENSIONS WITHOUT DAMAGING YOUR HAIR
Our tape in hair extensions are 100% resusable. You can re-apply them as many times as you need. Most of our clients take it out and re-apply them up to 5 or 6 times.
Every 2 to 3 months, your own hair with grow about 0.4 inches (1cm), you you will need to re-apply your tape in extensions. You will just need a hair extensions profesional natural remover to clean the base of the adhesive in a natural non agressive way in order to maintain your extensions in perfect conditions. This remover is made of natural citrus, and has not kind of agressive chemical nor acetone, to prevent any kind of damage both to the extensions piece and to your own hair. After you clean any traces of adhesive from the extensions piece, you will need to apply new adhesive tape, and you will be ready to start over again.
You can wash your hair as usual. Do not apply oily products on the extension. This would reduce the holding power of the adhesive tape and cause the extension piece to fall. If you use hair mask, apply it only from midle to the ends, not near the hair roots.
12. HOW LONG DOES THE TAPE IN HAIR EXTENSIONS LAST FOR?
Nais Hair tape in extensions are made only of real Remy cuticle hair and the average lifespan is much longer than other lower quality extensions. You can expect to use it for at least 12 to 18 months in optimal conditions. It is important to understand that the word "remy" has lost it real value and meaning with time, and became just a term to identify natural hair. Real remy hair has to keep it cuticle, with is more and more rare to find on the market.
The reality is that 95% of the hair market does NOT has cuticle, even when they market it as remy. You can test you hair by making a simple test holding one hair with your 2 fingers and rubbing it up and down to create friction. If you find no resistence or friction on it, it means this hair has not cuticle.
The reason why most factories remove the cuticle with agressive acid is because they use low quality raw hair material from hair salon refuse (not from one single healthy donor), so cuticle has to be removed to prevent tangle. But cuticle is a fundamental part of the hair structure and is a protective layer indispensible to maintain the hair healthy, shiny and mustorized. Non cuticle hair becomes dead and dry hair. Non cuticle hair is a much more cheaper raw material, but without the natural protection of the cuticle, even when adding a wax wash to add shininess, after 1 or 2 hair wash, it will loose its gloss, and even trying to revive this hair with the best shampoo and conditioner, this hair has received so much damage that will never recover it natural gloss and health.
Nais Hair tape in hair does really maintain its cuticle intact. The raw material used is only healthy donor hair, not refuse salon hair. The processing method used to bleach the hair is not acid, but a slow cold osmosis system to take out the pigment.
Please, invest in your beauty in quality products, and do not be deceived by appearance. The difference in price is not that big with regard to low quality extensions, but the lifespan can be up to 4 times longer.
The popular saying «you get what you pay for» is specially true in the hair extensions market. The main saving when it comes to hair extensions is on the installing expense.
Enjoy healthy, shiny, soft hair for longer time.
You can find out more about our quality control system on the following video:
OTHER TYPES OF HAIR EXTENSIONS:
Microring hair extensions
Hair weft
Clip in hair extensions
Halo hair extensions