100% NATURAL HUMAN HAIR WEFT EXTENSIONS
IDEAL FOR: Those who want the classic system and a long lasting hold for a few months, but at the same time the flexibility of being able to transform them in clip on hair extensions just by adding hair clips.
DOUBTS WITH YOUR COLOR?
See the top video ☝️ on the product images to be able to compare bewteen different colors. If you still need more help, please feel free to send us a selfie pic by whatsapp and we will be super happy to help you.
1. WEFT HAIR EXTENSIONS QUALITY
100% natural human hair extensions, roots and tips all go in same direction to prevent tangle. This hair keeps all the natural structure and texture of the hair, which allow you to enjoy longer shine and softness.
All our hair raw material is carefully selected. We only acept virgin, no mixed, non chemical treated hair to be able to guarantee the best quality results for you.
New generation 3 head and reinforced double sewing machine system will prevent any hair shedding.
Our hair quality has been tested to keep its original natural shine, moisturization and silky texture for up to 12 months.
The total cost of weft hair depends on the length, the amount of hair volume, and the extensions system desired. Its price goes from 80 to 120$ each 80 grams pack. If you need to add aditional thickness to your hair you can add a second layer or use it a a double layer to get an astonishing look.
You can choose between: 20 inches (50cm) for a medium length and 24 inches (60cm) for additional length. In case you want a XXL hair look, we also have 28 inches (70cm) and even 32 inches (80cm) available for you in virgin hair.
Our hair weft can be waved, curled, ironed, straightened exactly the same as you would do with your own hair.
You can also bleach it, but please bear in mind that by bleaching you will be reducing the hair lifespan. That is why we always recommend choosing an a bit lighter color and making it darker with just a color bath on surface, it would always be a gentler option than bleaching. However, most of our customers do not need to dye the hair since we offer a broad variety of color.
3. HOW MUCH HAIR DO I NEED FOR A FULL HEAD?
Each pack comes with an about 50 inches (1.3m) wide one piece weft. Total weigth of one weft is 2.8 oz(80 grams) The average customer order is 1 or 2 weft pieces depending on how much thickness you are looking for.
The hair amount for a full head might vary depending on diferent factors. The first thing you need to keep in mind is how much volume you want to get and how long your own hair is now. If you just need a discreet hair thinkness and your own hair is long, then 2.3 to 5 oz (80 to 150 grams) would be enough.
However, youwill need more hair if you want a XXL volume outstanding full head. And if your own hair is too short you might need a bit more, like 7 oz (200 grams).
4. BEFORE AND AFTER WEFT HAIR EXTENSIONS
Try out what others have already tried: ❤ ¡With a small investment you can get a huge change. ❤
FREE international shipping wordwide for all orders. We will send your hair extensions wherever you are for FREE. We use priority door to door DHL and FedEx Service.
All our hair extensions have a free 7 days return guarantee after you receive it. Not your color? You changed your mind? … No problem at all. Whatever the reason you can return it back without any kind of explanation needed. More details about our return policy here.
Here we leave you with some screenshots of customers reaction to our hair.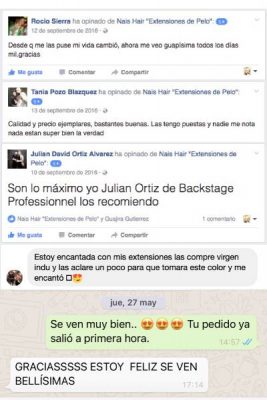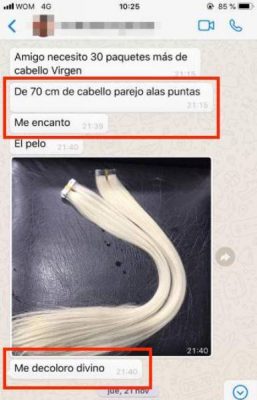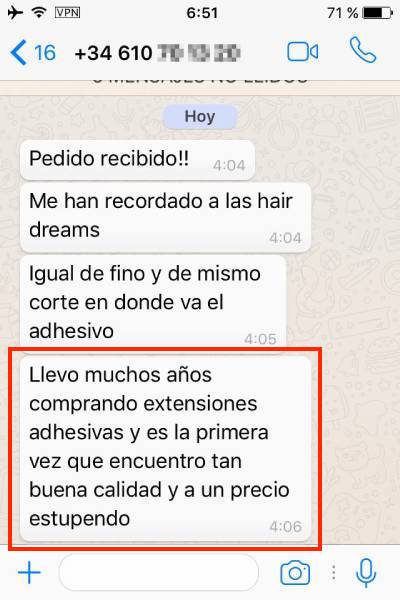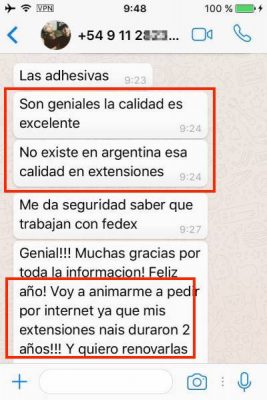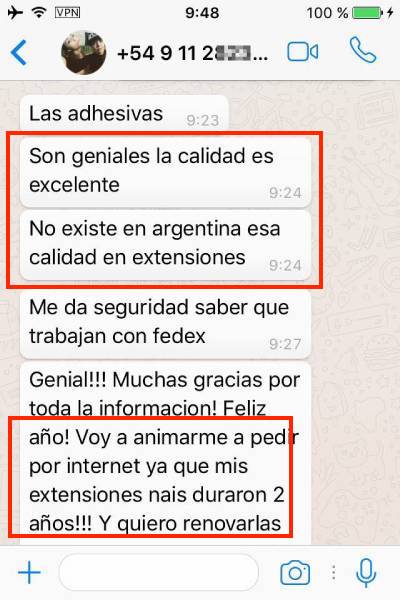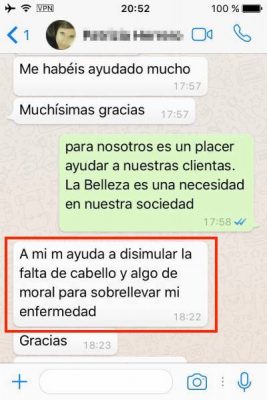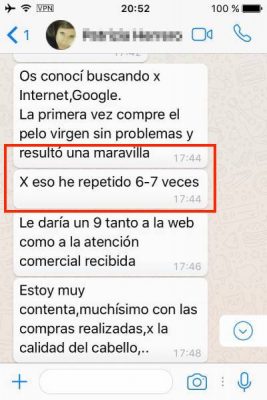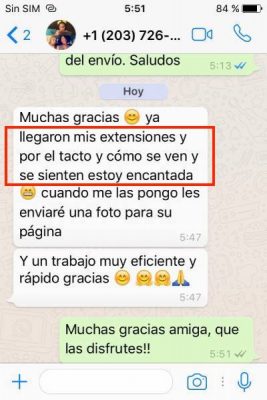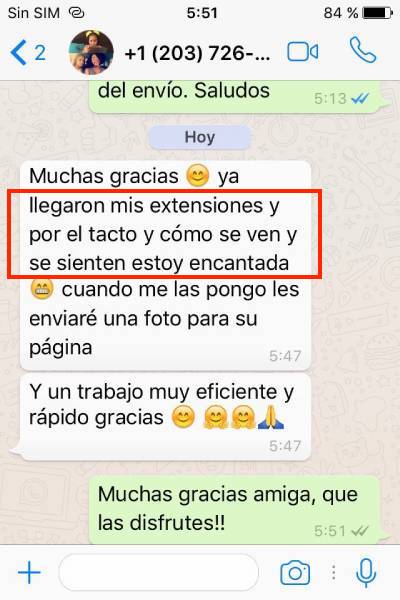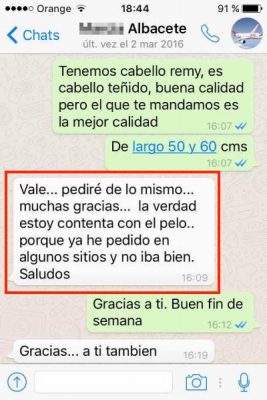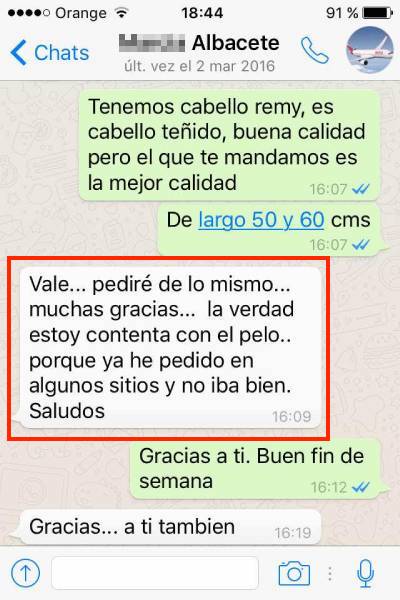 7. WEFT HAIR EXTENSIONS PROS
The main weft hair system is its versatility. If you get tired of permanent fixed hair extensions, thenyou can transform them into temporary clip on hair just by adding some hair clips. So simple.
Due to its firm and secure holding weft hair has become a very popular hair method. It is specially recomended for those who look for a long term hair extensions holding. If you look for a very firm and reliable holding for a few months, this is a very good option for you.
They are made of 100$ natural human hair, with a very thin and seamless, but strong sewing. You will enjoy your hair for longer time, and will perfectly blend on your own hair.
Flexibility. You can use them as fixed permanent hair extensions, but also as temporary clip on hair.
You can use different applying systems: microrings, sewing, braiding, or with glue.
Applying is simple, so you can even put them yourself with the help of a friend following our video tutorials.
7B. WEFT HAIR EXTENSIONS CONS
Hair weft are a classic extensions system, but now there is a more modern generation of hair extensions. If you are looking for fixed hair extensions system and you have not tried Tape In Hair Extensions yet, we recommend you to try them out and compare the results. That way you will be able to know which option is the best for you.
Some disanvantages on hair weft are:
As any other fixed permanent hair extensionss, you will need to re-apply them once your own hair grows longer (each 2 to 3 months)
If you use glue to apply them and you are not a professional hair stylist you could get your own hair damaged.
8. HOW LONG DO WEFT HAIR LAST?
100% Natural hair last and average of 8 months with a daily use. But on a temporal clip on use they can last for years.
Enjoy healthy, shiny, soft hair for longer time.
You can find out more about our quality control system on the following video:
9. WILL HAIR WEFT DAMAGE MY HAIR?
All fixed permanent hair extensions will create some tension on your hair when you sleep. But our customers fixed this problem using a soft silk pillowcase when in bed to prevent traction. In case you use a long term extension system, we recommend you to avoid using glue based systems, since in this case is better to use a hair extensions professional.
So if you want to have all the advantages of long term systems, but you are still unsure, you can use some temporary hair extension systems like clip in hair.
10. CAN I USE HAIR WEFT EXTENSIONS IF MY HAIR IS SHORT?
Yes, weft hair extensions can be weared in short hair too. But you will need at least 4 inches (10 cm) on your own hair to be able get a natural blend and seemless look.
Weft hair extensions do not damage your own hair, as soon as you always use high quality applying products. That is why anyone can use weft hair extensions, even if have weak and thin hair.
However, people with serious hair falling problems should avoid any kind of hair extensions until this condition improve.
Also, if your hair is short you should keep in mind you will need more hair to be able to get a reasonable amount of volume in your head. If your hair is too short you would need at least 5 to 7 oz(150 to 200 grams) to get an outstanding volume in your head.
11. HOW TO APPLY WEFT HAIR EXTENSIONS
Weft hair extensions are the only extensions system that allow different applying methods. You can put on hair weft using microrings, sewing or with glue, even unstalling clips on it.
Here you have a video tutorial that shows how to apply a weft on with afro braided:
STEP 1: you will need to do some previous work of breading all your hear at root level on your scalp.
STEP 2: starting from the bottom, measure your head from one side to the other y then cut the first weft portion.
STEP 3: start sewing and knotting with the needle from one side to another, leaving the gap of one finger between each join.
STEP 4: you must use a medium level of preassure when sewing, not too loose not too tense, to avoid innecesary pulling in your scalp.
STEP 5: you can also add some different color piece get additional highlights.
STEP 6: keep filling layers up covering your whole head up to your head crown.
You can also have a look at this tutorial that shows you how to sew clips to your weft pieces so that you can turn your weft into clip in hair extensions:
12. HOW TO MAINTAIN AND WASH YOUR HAIR EXTENSIONS
You can maintain your weft hair extensions same as you would do with your own hair, but keeping in mind that this hair does not receive nutrients and fatty oils from the roots. The best you can moisturize and condition your hair, the longer your hair will last.
With this video tutorial you can see step by step how to wash your hair extensions:
STEP 1: start brushing your hair from tips to root with a tangle free hair extensions brush
STEP 2: remember to use neutral sulfate-free shampoo, agresive chemicals free, and alcohol free.
STEP 3: add shampoo gently avoiding tangle as much as possible.
STEP 4: mousturize with hair mask or essential oils.
STEP 5: clear shampoo with your hands and then apply hair conditioner. Wait for 1 hour.
STEP 6: enjoy your extensions longer time. 🙂
OTHER TYPES OF HAIR EXTENSIONS
Fusion prebonder hair
Clip on hair
Tape in hair extensions
Halo hair extensions